---
Wildflower Bloom in Central Oregon
Cottonwood Creek
Pueblo Mts of Southeastern Oregon
May 27 & 28, 2000
---
* indicates flowers currently in bloom
*1. Nevada Mormon Tea: Ephedra nevadensis
*2. Green Mormon Tea: Ephedra viridis
3. Mountain Alder: Alnus incana
4. Narrow-leaved Cottonwood: Populus angustifolia
*5. Bruneau Mariposa Lily: Calochortus bruneanis
6. Sand Lily: Leucorinum montanum
7. Panicled Death Camas: Zigadenus paniculatus
8. Slenderbush Buckwheat: Eriogonum microthecum var. laxiflorum
*9. Oval-leaved Buckwheat: Eriogonum ovalifolium var. ovalifolium
*10. Franklin's Sandwort: Arenaria franklinii var. franklinii
*11. Bitteroot: Lewisia rediviva
*12. Holboell's Rockcress: Arabis holboellii
*13. Jim Hill Mustard: Sisymbrium altissimum
14. Newberry's Milk-vetch: Astragalus newberryi
15. Woolly-pod Milk-vetch: Astragalus purshii
*16. Lupine: Lupinus species Small annual
17. Tailcup Lupine: Lupinus argenteus var. heteranthus ? Past bloom.
*18. Pine Creek Evening Primrose: Camissonia boothii ?
*19. Bird's Nest Evening Primrose: Oenothera deltoides var. piperi ?
*20. White-stemmed Mentzelia: Mentzelia albicaulis
*21. Currant-leaved Globemallow: Sphaeralcea grossulariifolia
*22. Filaree: Erodium cicutarium
23. Phlox: Phlox (austromontana or hoodii) Small prostrate phlox with spiny leaves not in bloom yet.
*24. Naked-branch Phacelia: Phacelia gymnoclada ?
*25. Threadleaf Phacelia: Phacelia linearis
26. Fiddleneck: Amsinckia species ? Large clump of basal leaves, and one or two erect stems with dried, orangish flowers (past bloom).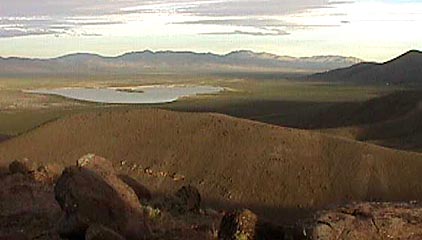 *27. Cryptanth: Cryptantha species Low growing species.
*28. Purple Sage: Salvia dorii var. dorii
*29. Desert Indian Paintbrush: Castilleja angustifolia
*30. Indian Paintbrush: Castilleja species
*31. Showy Penstemon: Penstemon speciosa ?
*32. Kellogia: Kellogia galioides
*33. Annual Agoseris: Agoseris heterophylla
*34. Low Pussytoes: Antennaria dimorpha
*35. Hoary False Yarrow (Dusty Maidens): Chaenactis douglasii var. douglasii
*36. Pin Cushions: Chaenactis species - Minute annual with white flowers.
*37. Tapertip Hawksbeard: Crepis acuminata
*38. Basin Rayless Daisy: Erigeron aphanactis
*39. Yellow Desert Daisy: Erigeron linearis
40. Wirelettuce: Stephanomeria species
*41. Catclaw Horsebrush: Tetradymia spinosa
---
Animals Seen:
1. Two baby nighthawks
2. Two black-throated sparrows
3. Two gray partridges
4. Two ravens
5. Numerous robins
6. Numerous mourning doves
7. Numerous Brewer's blackbirds
8. Northern Flicker
9. Flycatcher
10. Black-billed magpie
11. Yellow warbler
12. Killdeer
13. Swallowtail butterfly
14. Numerous checkerspot butterflies
---
Paul Slichter