---
Pinemat Manzanita, Snowmat Manzanita
Arctostaphylos nevadensis
Synonyms: Arctostaphylos nevadensis ssp. nevadensis, Arctostaphylos pungens ssp. nevadensis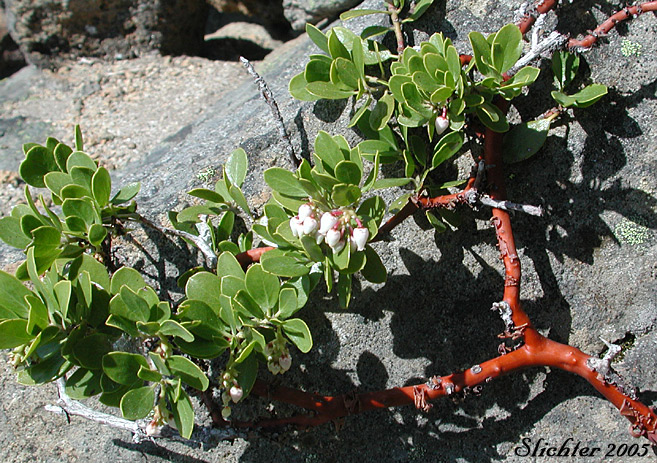 The photo above shows a branch of pinemat manzanita and the leaves and flower clusters that it bears as seen on Crofton Butte on the southern slopes of Mt. Adams...................May 28, 2005. Note the attractive orangish-brown bark of this species.
---
Pinemat manzanita as seen at the rock quarry at the end of Rd K6900 at about 4100' on the southeastern slopes of Mt. Adams...............May 23, 2005. Note the leaf tips which often end in an abrupt, small, slender point.
---
Maturing fruits of pinemat manzanita as observed along the Red Lake Trail #719 under powerlines about one-half mile above the trailhead, Olallie Lake Scenic Area, Mt. Hood National Forest....... September 13, 2019.
---
The photo at left shows a nice mat of pinemat manzanita as seen on a bald at the Helispot 122 above the junction of the Little Badger Creek and School Canyon Trails, Badger Creek Wilderness...........June 14, 2014. The photo at right shows pinemat manzanita atop Castle Rock, Willamette National Forest........June 24, 2018.
---
Paul Slichter